April 2023 GCSE Music subject update
25 April 2023
Read the latest subject update for Edexcel GCSE Music which includes information for assessment in Summer 2023.
Read more
Learner Work Transfer (LWT) and Edexcel Online
You should now be able to upload work to the LWT portal, and view the requested sample and input marks using Edexcel Online. You can view our digital submission guidance below:

NEA submission
Work and marks for NEA components, Performing and Composing, must be made available to us by 15 May 2023 using the LWT portal and Edexcel Online.
This year, students should complete all work required by the specification:
Component 1: Solo performance and Ensemble performance (minimum duration 4 minutes)
Component 2: Brief composition and Free composition (minimum duration 3 minutes)
Authentication sheets
You will need to complete and upload EITHER:
A PAS and a CAS Excel file to include all candidates, whether sampled or not
OR
A PAS and a CAS PDF form for each sampled candidate.
Declaration statements
Declaration statements may be signed digitally on Excel and PDF forms.
Teachers and students will sign declaration statements by typing their name and date in the relevant boxes.
Alternatively, PAS and CAS PDF forms may be printed, signed manually then scanned to PDF.
Administrative Support Guide
The administrative support guide contains details of how to present the work to the moderator. Read the administrative support guide below:

Under length submissions
If any of your students submit under length Performing and/or Composing submissions, you must declare this to us. Minimum combined duration is as follows:
Performing - 4 minutes
Composing - 3 minutes.
Please complete the form below to inform us of all under length submissions, whether they are sampled students or not.
 
GCSE Music Online Coursework Submission Summer 2023
Additional information about NEA submission and Edexcel Online, including generating a new password, can be found in our March subject update:
| | |
| --- | --- |
| Date | Event |
| 15 May 2023 | Final date for submission of coursework marks and moderation samples |
| 14 June 2023 | 1MU0/03: Appraising exam |
| 24 August 2023 | GCSE results day |
NEA submission: Frequently Asked Questions
Do I need to carry out internal standardisation?
Where marking has been carried out by more than one teacher in a centre, there must be a process of internal standardisation carried out to ensure that there is a consistent application of the assessment grids and difficulty level awarding.
What are the grade boundaries?
Grade boundaries, which are subject to change each exam series, are published on the website on the grade boundaries page. For Summer 2023, they will be available to download from results day: 24 August 2023.
How are marks submitted to Edexcel?
All marks must be submitted online via Edexcel Online.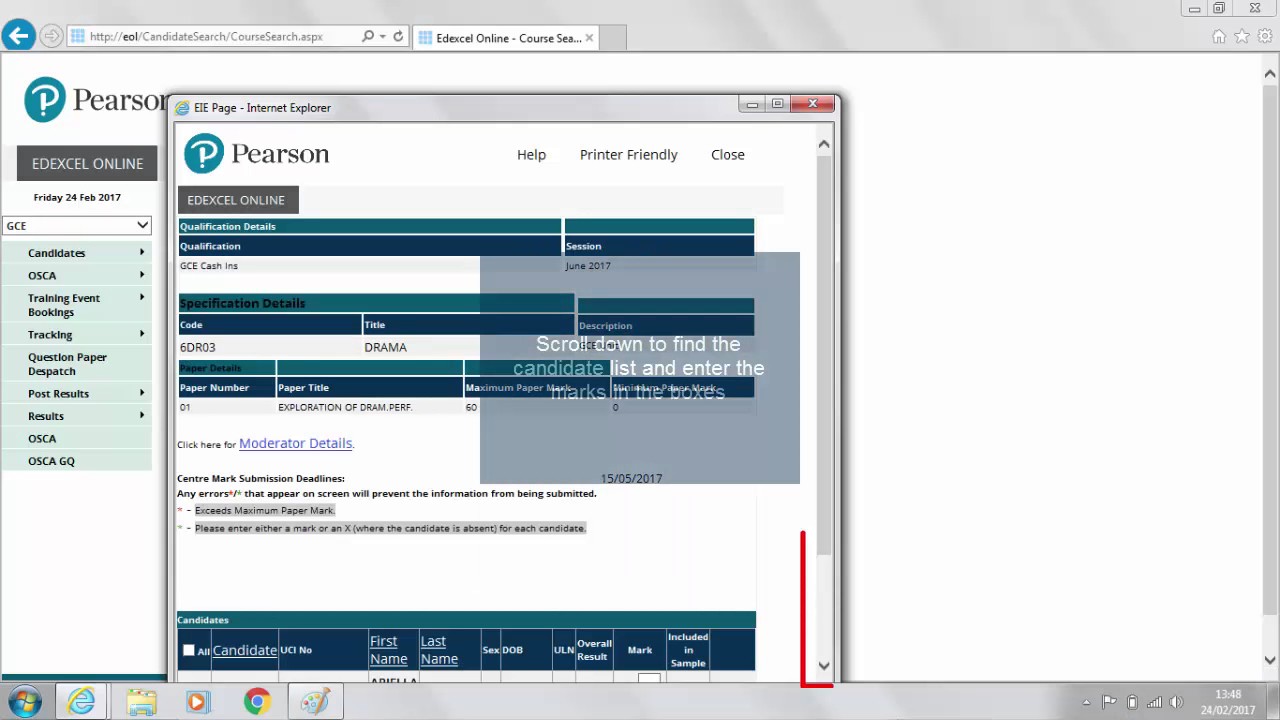 Play
For Performing you should submit the total mark out of 60, and for Composing you should submit the total mark out of 60. Do not reduce marks for under length submissions, marks will be reduced during the moderation process.
A score of zero should only be used if a candidate has submitted work that is found to meet none of the assessment criteria. An X should be used for any candidate who is absent.
Important: You may need to amend your Edexcel Online access to allow you to submit coursework marks online. To do this your exams officer will need to go into your Edexcel Online account and under 'profiles' tick the box next to 'Coursework and Portfolio'. If they also tick the 'Results' box you will be able to view your E9 moderator report on results day.
What happens if I make an error when submitting controlled assessment marks?
If you discover an error after submitting a coursework mark, you can amend it by emailing your centre number, the unit and candidate details, and details of the total mark(s) to be amended, to: courseworkmarks@pearson.com
When will I be able to access Edexcel Online to submit marks and see the requested sample?
You should be able to submit marks and view the requested sample now.
How do I identify the sample of work that needs to be sent to the moderator?
When you log in to Edexcel Online and go to the controlled assessment mark submission screen there will be a tick next to the candidates' names that need to be sent for moderation.
You also need to upload the work of the highest and lowest marked candidates if they are not identified as part of the requested sample. (Where there are several highest or lowest scoring candidates one sample should be uploaded.)
If, for some reason, you are unable to send the work for a particular student, you should submit the work of an equivalent student with a similar mark.
How do I submit the sample?
The Administrative Support Guide provides information on how to present the material. You will need to upload all material through the Learner Work Transfer (LWT) portal. There are guides on how to use the LWT portal below:

Will my centre receive an E9 Moderator Report?
While moderating your centre's coursework, the moderator will write an E9 report which will give you detailed feedback on your marking and administration. You will be able to download this report from Edexcel Online on results day.
 
Pearson Edexcel Music Training Courses
We would like to hear from teachers about future online training and support materials they would find helpful for delivering our Music qualifications.
Subject advisor
Music and Music Technology