Summer 2022 consultation outcome for History
4 October 2021
This update contains a summary of the outcome of the recent joint DfE and Ofqual consultation on Summer 2022 GCSE and A level assessment for History teachers.
Read more
On 30 September, the Department for Education and Ofqual published the outcomes of the consultation on proposed summer 2022 adaptations, including optionality and advance information.
The consultation concluded that all of the proposals set out in the consultation document would be implemented.
GCSE History in Summer 2022
For GCSE History, the following arrangements have been confirmed for summer 2022:
Optionality
To make exams in 2022 less daunting, students will have a choice of topics on which they are required to answer questions, beyond a common core on the specification. This helps to address teacher concerns about the ability of students to cover all the required subject content in the time available.
For the Pearson Edexcel GCSE History specification, our centres will need to deliver only three of our four units. Alongside the compulsory Modern depth study (Paper 3), centres will have the option of choosing two of the following three units: Thematic study with historic environment, British depth study, and Period study.
We have provided some detailed support documents which help clarify these changes and explain the options available to teachers in Summer 2022:
For GCSE History, the optionality of topics proposed would mean that no advance notice would be given. Advance notice would be in place for qualifications such as A level History, where there is no additional optionality.
A level History in Summer 2022
For A level History, the following arrangements have been confirmed for summer 2022:
Advance information
To help students focus their revision in Summer 2022 advance information will be provided by 7 February 2022 at the latest. This advance information is likely to be at a high level in terms of identification of specification content and is based on the following principles:
The advance information should not be so detailed that students are
able to memorise answers to write in the exam.
It should not be so extensive or specific that it would damage a
student's progression to higher level qualifications in the subject.
It should still be possible to differentiate between students on the
basis of their performance.
You can find more information on advance information in these FAQs:
We will provide you with further guidance and support on advance information soon. The Joint Council have provided a guidance document on advance information.
There are no changes to the A level History specification content or assessment in Summer 2022 and NEA will be submitted as usual by the 15 May deadline. Ofqual ran a consultation on NEA last summer and announced changes to some NEA but this did not include A level History as it mainly concerned subjects which were affected by public health restrictions eg field trips.
What does this mean for international qualifications such as International GCSE and IAL History?
Ofqual is the regulator for UK qualifications, so this consultation only covers GCSE and A level qualifications. We are working on arrangements for international qualifications and will share more information once it has been confirmed.
International GCSE History in Summer 2022
We have tried to ensure parity between the UK GCSE and International GCSE History. For International GCSE History, the following arrangements have been confirmed for summer 2022:
Optionality
For the May/June 2022 examination series, students will study and be assessed on 3 topics instead of 4 as follows:  
Option A – Choose two topics in Paper 1 as usual and in Paper 2 choose one topic in Section A.   
Option B – Choose one topic in Paper 1 and in Paper 2 choose two topics (one from Section A and one from Section B) as usual.  
Section A: Historical Investigation, in Paper 2, is compulsory in both options.  
Teachers can therefore choose to drop EITHER one Paper 1 depth study OR the Paper 2 study in breadth in Summer 2022 for Edexcel International GCSE History.
More detailed guidance will be available soon on the qualification page.
International A level History in Summer 2022
We are able to confirm that due to the modular nature of International AS and A level qualifications there will be no adjustments to these papers in 2022.
Autumn term support video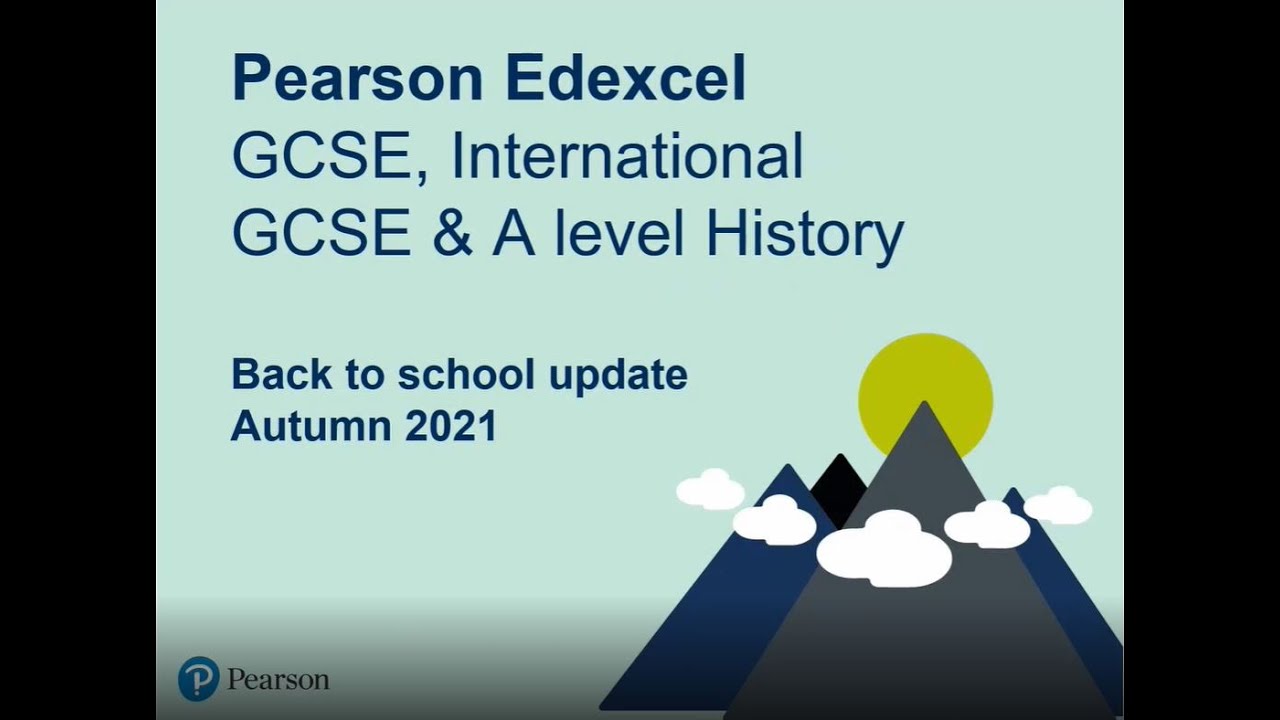 Play
Subject advisor